Posted on November 13th, 2011 | by A Worker |
Verizon workers occupied 11-11 on Friday at the OccupyWallStreet encampment in lower Manhattan. Â  They came to drop a dime on the Telecom behemoth, to let the public know that Verizon is the poster child of corporate greed.
Toting signs and a large banner, workers from IBEW 827 from New Jersey came to stand in solidarity with the other members of the 99% at OWS.  "Same enemy, same fight, workers of the world unite,"  is a chant that has a particularly in tune ring to it these days.
"I'm here to support the working class," one VZ worker said at OWS, "to show my distrust for the system we have now and that we need some kind of change.  I'm trying to do my part."
"Verizon sucks they fired me for speaking up," another worker said.  He and eight other IBEW 827 members and many more union workers in other states remain fired or indefinitely suspended for strike related activity.  The unions are still negotiating a contract settlement and fighting  to get these workers back on the payroll.
"They talk about cutbacks in healthcare. What they don't tell you is Verizon is self insured," the fired worker said.  "They use the insurance companies as front men.  So if Verizon  collects $6000 from each employee and they don't spend that money Verizon can keep it as profit. "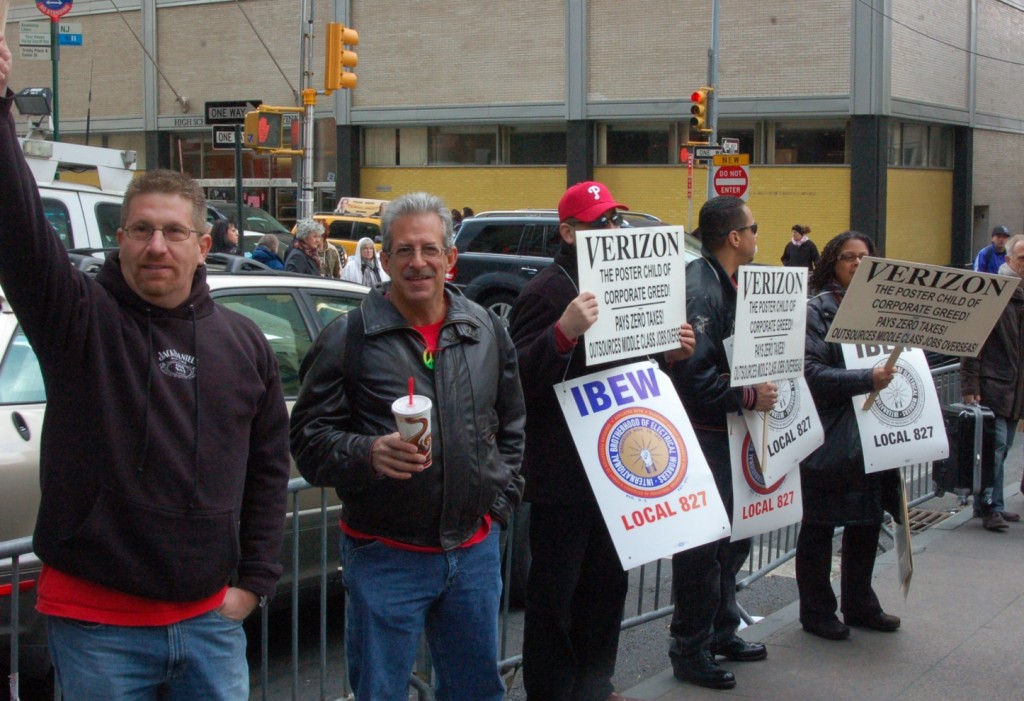 The battle continues.   In New Jersey, union members are ramping up mobilization efforts with informational picketing and mass leafleting to inform the public just how greedy Lowell McGreedy really is.  Verizon earned $19.5 billion in profits over the last four years and paid its top five executives (the one percent) over $258 million in the same time frame.  They spend millions of dollars on ads and public relations propaganda to try to distort the simple fact that all their profits come from the labor of the 99 percent — the workers at Verizon.